Legacy Vacation Resorts Tackles Greenwashing in Tourism with New Campaign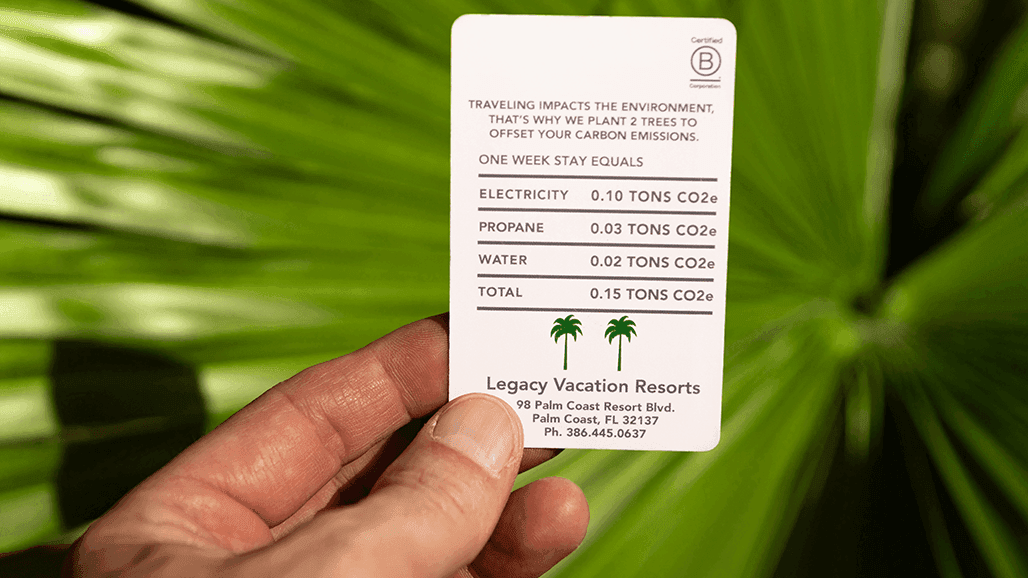 LAKE BUENA VISTA, Fla. (MARCH 15, 2022) – Florida-based Legacy Vacation Resorts is on a mission to lift the veil on greenwashing throughout the tourism industry and help travelers make informed decisions about the places they stay. The Certified B Corp has launched an anti-greenwashing campaign to showcase the importance of transparency and the responsibility of hospitality businesses to be truthful with their guests when it comes to how they benefit people and the planet. The debut comes in tandem with recent news from around the world where select countries and lawmakers are introducing policies that would require proof and other methods of verification against any claims a business makes towards eco-friendliness or sustainability. The new program reveals signs of greenwashing to be aware of and encourages travelers to look deeper beyond clever marketing, empty claims, and verdant logos, all while showcasing the importance of a holistic approach to authentic social and environmental impact.
Greenwashing is a less-than-honest practice used by some companies to mislead consumers into thinking a product or service is "eco-" or "earth-friendly" when it is not. More simply put, it is saying all the right things while doing all the wrong ones behind the scenes. Thanks to their designation as a B Corp and registered Benefit Corporation, Legacy Vacation Resorts stands apart by actively practicing social and environmental programs that deliver tangible results. In fact, because of these classifications, they are legally bound to deliver a positive impact for all stakeholders, including workers, consumers, the environment, and the local communities near their eight locations in the U.S. They seek to not only help travelers enjoy a great vacation experience, but also ensure that experience is contributing to a positive impact for all people and the world.
For example, when the company speaks about lowering the carbon footprint of their guests while vacationing with them, they back that up through things like carbon offsetting 100% of their directly booked stays, energy efficiency, and creation programs including solar power and renewable energy utilization, providing free EV chargers, Energy Star rated thermostats and appliances in rooms, as well as a concrete plan to integrate 100% renewable energy company-wide by 2030. Their claims of benefitting the environment are met with programs that reduce waste from refuse to single-use plastics, robust recycling efforts, water reduction programs including drought-resistant landscaping, low-flow faucets, toilets, and showerheads, and rainwater collection barrels in select locations, as well as upcoming energy audits at each resort to determine prioritization of efficiency projects.
The company verifies their statements of how important local communities are to them by maintaining a purchasing policy that gives preference to locally owned businesses, supporting social impact causes to help bridge the gap between equity and equality for underserved populations, hosting beach and park cleanups, supporting local universities, and providing eight hours of paid time off to each team member to volunteer at local organizations. Finally, when they speak to how essential and valued team members are, they prove this passion with a commitment to a living wage for all eligible employees, inclusive health, dental, and life insurance options, a loan and savings program which provides immediate access to cash and education on financial literacy, tuition reimbursement and scholarship awards, as well as creating space for a diverse and inclusive workforce.
"As a B Corp, our approach to serve our mission, as well as environmental and social causes, is transparent, truthful, and impactful," said Jared Meyers, CEO of Legacy Vacation Resorts. "Each and every part of our business is designed to benefit all stakeholders because we are all interconnected. That is why at each of our eight locations across the country, travelers will find that they don't need to leave their values at home just because they go on vacation. We want them to know that they have the power to make change through their choices, and when they choose to stay with us, they are making the conscious decision to support a thriving tourism industry that benefits all people and the planet."
TRAVEL AS A FORCE FOR GOOD
In addition to their robust mission-aligned initiatives, Legacy Vacation Resorts leadership co-created the B Tourism network, a global network of Certified B Corporation travel and tourism companies as well as other conscious travel organizations taking collective action for environmental and social justice. Inspired by the operational transparency and overall credibility of the B Corporation certification, the platform serves as a resource for the regenerative travel movement and to help travelers enjoy a vacation experience that embodies interdependence and interconnectedness. It was created out of a desire to transform the tourism industry into one which regenerates the communities it touches and has become a place where responsible travel businesses can connect, collaborate and share best practices in their journey to help travelers plan vacations that align with their desire to positively impact the world around them.
Travelers shouldn't have to work hard to find out if a company is truly benefitting people and the planet or if they are simply greenwashing. With their new program, Legacy Vacation Resorts hopes to educate and inspire explorers to find businesses that contribute positively, and truthfully, benefitting people and the planet.
ABOUT LEGACY VACATION RESORTS
Legacy Vacation Resorts provides vacation experiences for families and friends to create unique moments and lasting memories in a manner that respects the environment, employees, and community. The company boasts eight locations across Florida, New Jersey, Colorado, and Nevada, delivering a variety of options for travelers of all ages. With a core passion for sustainability and using the power of business as a force for good, this Certified B Corporation offers carbon footprint offsetting, waste reduction programs, living wage initiatives, sustainable lifestyle awareness campaigns, and green-focused renovation projects.