Celebrate Spring in FL: Your Guide to 2021 Festivals and Events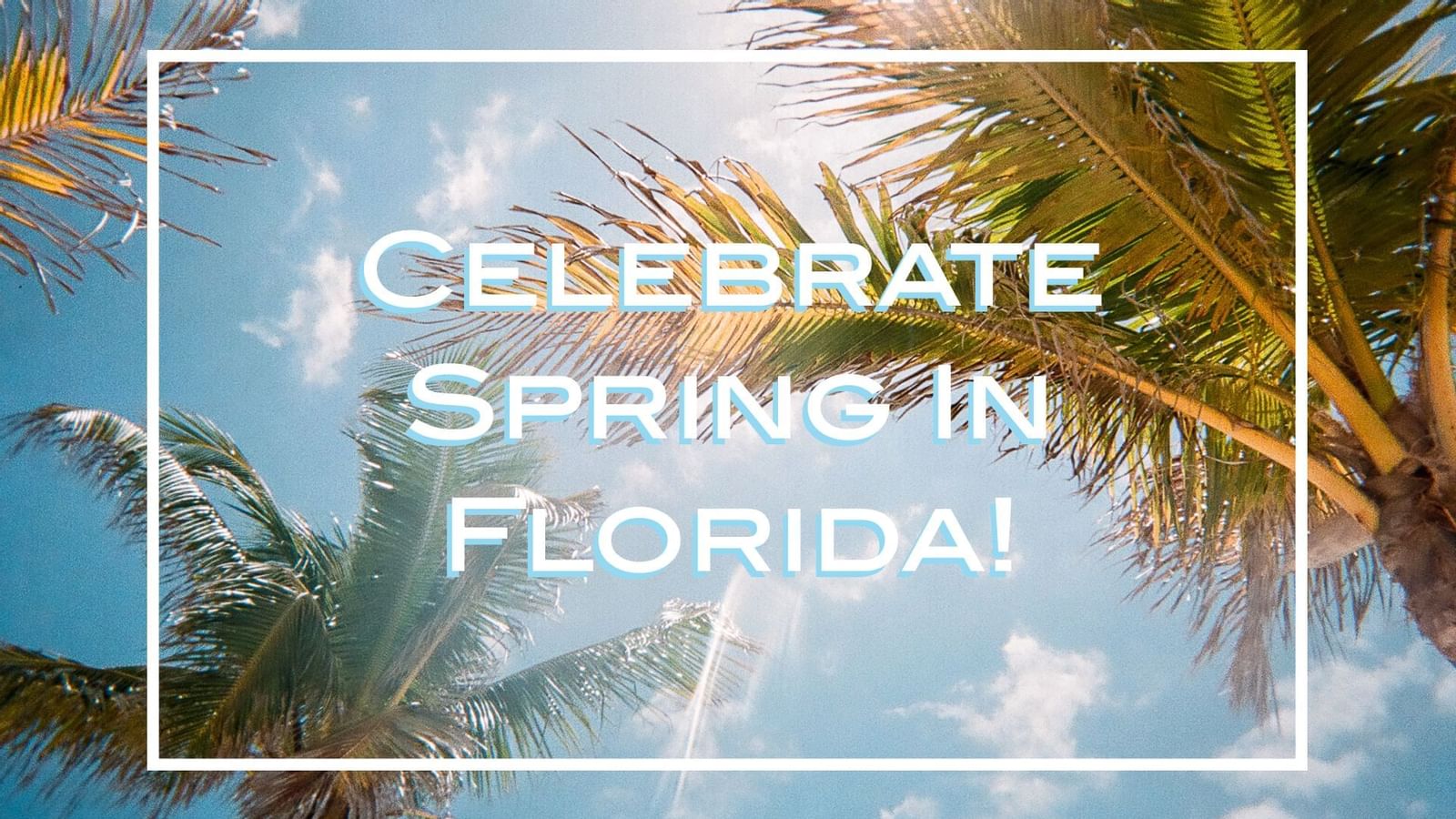 Spring in the Sunshine State means that you get to experience an exhilarating, yet relaxing fun-filled adventure with your family. It's no secret that Florida is the place to be for an early spring getaway. From the surf, sun, and sand along the beautiful beaches of Daytona Beach, or Clearwater Beach to the world-class attractions, you'll never run out of things to do. Whether you're looking for the perfect family vacation, a girls' trip, or just looking for an easy staycation, one of our LVR Florida Resorts will be the ideal destination for your vacation.

Experience the ultimate springtime adventure – here's your ultimate guide to 2021 Spring Festivals and Events in Florida.
A Taste of Epcot Festival of the Arts – Keeping in line with health and safety precautions this will be a miniature version of the usual festival at Epcot, from January 8 – February 22, 2021. Immerse yourself in signature dining, culinary arts, performing arts, visual arts, and discover fun for all ages during this captivating event.
Busch Gardens Mardi Gras – Let the good times roll at Busch Gardens in Tampa Bay. From January 16 – February 16, 2021, join the fun and experience "Fat Tuesday" every weekend with open-air festivities and a French-Quarter flair. To ensure safety and social distancing, advance reservations are essential.*
Mardi Gras at Universal Orlando – Join in on this international celebration only at Universal Orlando! Mardi Gras International Flavors of Carnival runs daily from February 6 – March 28, 2021. Featuring delicacies from New Orleans, Puerto Rico, Trinidad and Tobago, Germany, and more, you can experience Mardi Gras or Carnival like never before!
SeaWorld Seven Seas Food Festival – Yet another delicious foodie fest, the Seven Seas Festival is held every Friday – Sunday from February 22 – May 9 2021 at Sea World.
Daytona Speedweeks – It's the Great American Race! Daytona International Speedway hosts the start of the Nascar season culminating in the Daytona 500. Experience concerts and festivities during a one-of-a-kind atmosphere unrivaled anywhere in the racing world on February 14, 2021.
Osceola County Fair – Enjoy 10 fun-filled-days that the family will be sure to love. Ride your favorite carnival and fair rides, get your fill of funnel cake, and enjoy live entertainment and a petting zoo! The fair will be in town from February 12 – February 21, 2021.
Busch Gardens Food & Wine Festival 2021 – Tantalize your taste buds during Busch Garden's Food & Wine festival every weekend from February 20 – April 25, 2021. Dine on delicious dishes and dynamic drinks while listening to live concerts, all included with your entry ticket.
Here's a list of socially distant events on a smaller scale that you can still delight in!
Drive-in Movies – Drive-in theaters are experiencing a rebirth. Partake in a group film-watching experience at several old fashioned drive-ins. Here are a few drive-in theaters around Central FL: silvermoondrivein.com, ocaladrivein.info, joylandrivein.com, ruskingamilydrivein.com.
Wildlife Drive Audio Tour – Embark on a mini-safari-adventure through restored former farm fields of Lake Apopka's North Shore. Use your mobile phone on this 11-mile stretch and enjoy the scenery. During the tour, you'll find lots of native birds, turtles, alligators, bobcats, snakes, and other wildlife, as well as spotting rare Florida plant species.
Lukas Nursery Butterfly Encounter – Feed butterflies from your fingertips at this year-round butterfly and bird conservatory. Get up close and personal with these stunningly graceful butterflies, finches, quails, and more! Also, learn about plant life cycles and butterfly gardens from experts on-site. Not to mention, you can now take a virtual field trip with their YouTube Channel.
Florida Manatee Festival – Marvel at these gentle giants during this 2-day festival from March 27-28, 2021. For 34 years, Crystal River has been home to one of the biggest festivals featuring inflatables, sand art, face painting, dances, live music, and more!
Brevard Renaissance Fair – Come one, come all! Combine fantasy, history, and culture in this 16th-century time-travel adventure. With over 70 shows daily including jousting, sheep tossing, gypsies, and more, you will be sure you revel in the fun. The Renaissance Fair occurs every weekend from January 16, 2021 – February 7, 2021.