Sustainable Swaps for a Sustainable Life!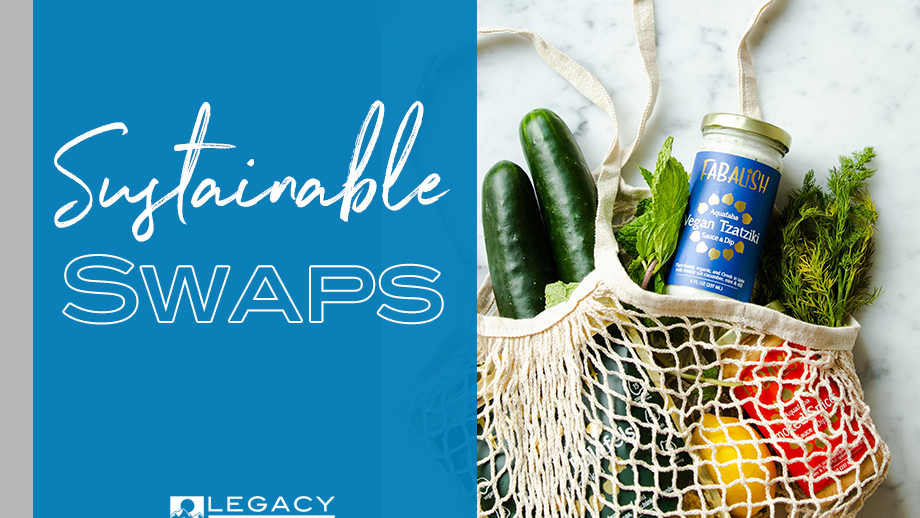 Finding sustainable solutions to your everyday products can be easy and affordable. Switching from single-use items to reusable products helps decrease the amount of useless waste you throw out each year. Cutting down on your plastic usage and moving to bio-degradable or durable, long-lasting alternatives is imperative to ensuring a prosperous future for our next generations. It is important to recognize that small steps add up and can make a vast difference. The best part? You don't always have to do things perfectly! This is especially true when it comes to sustainability and living a more eco-friendly lifestyle.
There are simple changes you can make today, so keep this as a reference and focus on the areas of your life where variations are achievable and actionable. With that, here are 10 swaps to live more sustainably.
Reusable Bottles – Americans use an average of 50 billion plastic bottles annually. Making the switch to reusable water bottles helps to keep our waterways and marine life plastic-free. Be sure to pick up your exclusive Legacy Vacation Resorts water bottle from the front desk when you book a stay with us! Together, we can prevent plastics from polluting our waterways.
Reusable Straws – One small sacrifice to make is to forgo using a straw when ordering your drink. However, if you need one, opt to use a paper or reusable straw as a step to reduce your plastic waste. If you're worried about washing them; never fear! They often come with a cleaning brush to keep your straws squeaky clean.
Biodegradable or Bamboo Cutlery – The vast majority of plastic cutlery cannot be recycled. Rather than using plastic ware, make the switch to bamboo cutlery or another sustainable option. At Tony's Bar & Grill, located on-site at our Kissimmee/Orlando property, we have gotten rid of 90% of all single-use plastics and use strong, sustainable, plant-based utensils that are biodegradable.
Plastic-free razors – Switching to a safety razor instead of disposable razors ensures that we keep plastic waste from entering our natural waterways.
Reusable Shopping Bags – BYOB. Bring your own bag, that is! Keeping a few of these in the car saves a lot of plastic. You can even customize and purchase bags to fit your individual style and preference.
Glass Storage Containers – It is time to level up from the days of using plastic containers. Not only are they easier to clean, but they are better for the planet! It's a win-win all around.
Natural Cleaning Supplies – There are a vast number of options when it comes to plant-based cleaners. Not fond of the store-bought versions? Make your own cleaning products with baking soda, vinegar, and essential oils. The benefits to opting out of chemical cleaners are two-fold, you lose the plastic AND the toxic chemicals.
Bamboo Toothbrush – Ditch the plastic, friends. If you can't tell by now, plastic is not good for the environment or you.
Wool Dryer Balls – Say goodbye to single-use dryer sheets and incorporate wool dryer balls in your next laundry cycle. Not only is this an easy sustainable swap, but your clothes will feel much softer and will smell better when you add essential oils.
Sustainable Materials - Living a more conscious, sustainable life also includes the various materials you choose — such as clothing, fabrics, furniture, and so much more. Sustainable materials can include organic cotton, hemp, bamboo, recycled nylon, and the most sustainable option – buying second hand!
Just think if every single person reading made 1–2 of these switches what the overall impact of those small choices would look like 1 year from now or even 50 years from now! We understand that making these swaps come at a price, but if we all do what we can and slowly implement these practices, we could make a world of difference. How are you going to step up? How are you going to make a difference decades from now? We would love to hear from you! Get social with us on Facebook and Instagram and share your thoughts! If you are looking for more ways to increase your impact, check out our guide on 10 Ways to be More Sustainable This Year!