Sustainable Travel Tips for Your Legacy Vacation Resorts Stay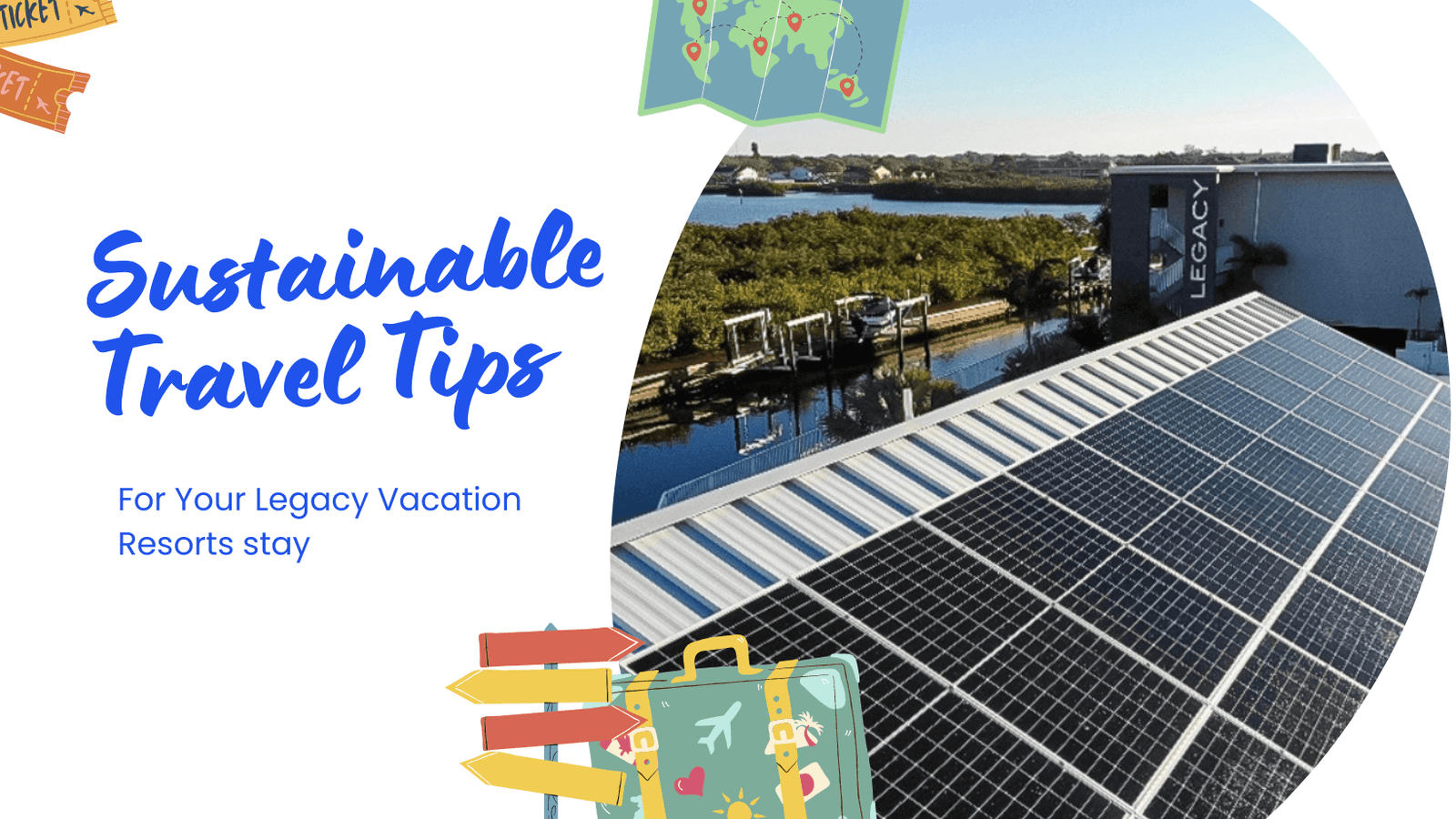 Pack your bags and buckle up, because we at Legacy Vacation Resorts, are on a mission to turn your vacations into planet-saving adventures! We're not your ordinary resort - we're trailblazers, trendsetters, and the first multi-state resort hospitality company in the U.S. to rock that shiny B Corp Certification. Why? Because we're all about creating a sustainable world and leading the charge in the hospitality industry.
In this blog post, we will share some valuable tips for sustainable travel during your stay with us, while also highlighting our initiatives and goals for a greener future.
Here are sustainable travel tips:
Choose Eco-Friendly Transportation:
Reduce your carbon footprint by opting for eco-friendly transportation methods. Consider taking public transportation, cycling, or walking to explore the local area. If you're driving, carpooling or renting a fuel-efficient vehicle, it can make a significant difference.
Conserve Energy and Water:
Be mindful of your energy and water usage during your stay. Turn off lights, TV, and other electronic devices when not in use. Take shorter showers and reuse towels to reduce water consumption. By making these small adjustments, you contribute to our goal of achieving a 10% reduction in total electricity usage and a 25% reduction in our water usage.
Support Local and Sustainable Businesses:
When dining out or shopping, support local businesses and restaurants that prioritize sustainability. Look for farm-to-table establishments that source ingredients locally, reducing the carbon footprint associated with transportation. By prioritizing your spending within the B Corp and other values-aligned communities, you contribute to our commitment to community growth and positive change.
Minimize Waste:
Help us achieve our goal of zero single-use plastics by reducing waste. Carry a reusable water bottle or even better, get one when checking in--- bring your own shopping bags, and say no to single-use plastic straws and cutlery. Dispose of waste responsibly by recycling and composting whenever possible.
Explore the Outdoors Responsibly:
Enjoy the natural beauty surrounding our resorts while being respectful of the environment. Stick to designated trails, avoid disturbing wildlife, and refrain from littering. By embracing sustainable practices during outdoor activities, we can preserve the ecosystems we cherish.
Engage in Responsible Tourism:
Learn about the local culture, traditions, and history of the destinations you visit. Respect the customs and traditions of the community and be mindful of the impact of your actions on the local environment and residents. Support local initiatives and organizations that promote sustainable tourism.
As you gear up for your unforgettable Legacy Vacation Resorts stay, we're waving our sustainability flag high and mighty. By embracing these fantastic sustainable travel tips, you're not just having a blast - you're also making our world a greener, happier place! We've already achieved some mind-blowing milestones, like installing electric vehicle charging stations, reaching carbon neutrality, and diving headfirst into renewable energy plans – like installing solar panels at our resorts.
But guess what? We're not stopping there! We're on a mission to crank up the green meter even higher, expanding our sustainable initiatives and slashing those carbon emissions like nobody's business. So, let's join forces and prove that every vacation can be a roaring force for good. Together, we'll create a legacy of sustainability that'll rock the vacation world! Learn more about our sustainability efforts here.