10 Can't Miss Experiences in Brigantine Beach, NJ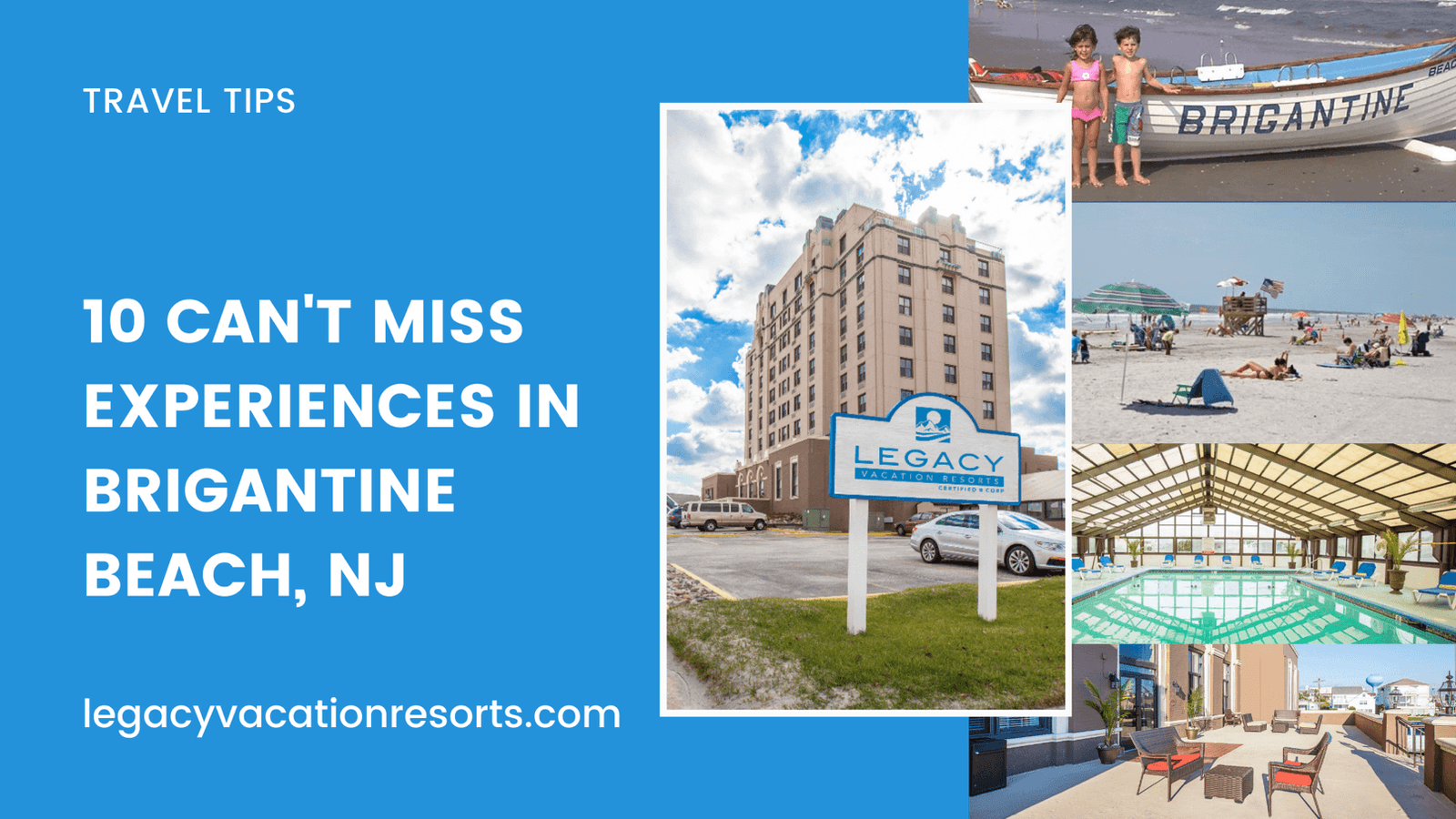 Ready for the ultimate beach getaway that's packed with excitement for the whole family? Brace yourself for Brigantine Beach, New Jersey – the beach destination dreams are made of! Picture-perfect and teeming with activities, this hidden gem on Brigantine Island is the answer to your vacation dreams. Get ready to be wowed at Legacy Vacation Resorts Brigantine Island beach resort, where not only will you find cozy accommodations and top-notch amenities, but a whole bunch of unforgettable adventures. Hold onto your sunhats because here are the 10 things to do in Brigantine Beach, NJ!
1. Soak up the Sun on the Beach: Brigantine Beach boasts pristine white sandy shores that are perfect for relaxation and recreation. Spend your days building sandcastles, playing beach volleyball, or simply lounging under the warm sun.
2. Explore the Charming Boardwalk: Take a leisurely stroll along the charming boardwalk and enjoy the ocean breeze. Discover unique shops, sample local treats, and take in the captivating views of the Atlantic Ocean.
3. Indulge in Water Sports: From surfing and kayaking to jet skiing and paddle boarding, Brigantine Beach offers a plethora of water sports activities. Get your adrenaline pumping or simply enjoy a refreshing dip in the ocean.
4. Embark on a Fishing Adventure: Brigantine Beach is a paradise for fishing enthusiasts. Cast a line into the surf or book a deep-sea fishing charter for a chance to reel in a big catch. Enjoy the thrill of the chase and create lasting memories.
5. Tee Off on Championship Golf Courses: Golf lovers will be delighted by the world-class golf courses in the area. Challenge yourself on scenic fairways and manicured greens while enjoying breathtaking views of the coastline.
6. Discover Wildlife at the Brigantine Beach Natural Area: Immerse yourself in nature at the Brigantine Beach Natural Area. This protected sanctuary is home to a diverse array of plant and animal species. Take a hike, go birdwatching, or simply enjoy the tranquillity of this coastal habitat.
7. Visit Atlantic City: Just a short trip from Brigantine Beac-h, Atlantic City offers a vibrant nightlife, world-class entertainment, and exciting casinos. Try your luck at the slot machines or catch a live show for an unforgettable evening.
8. Check out The Brigantine Farmers Market: Experience the ultimate foodie paradise at the incredible Brigantine Farmers Market! Every Saturday, from late May to September, between 8:30 AM and 12:00 PM Indulge in a bounty of fresh fruits, vegetables, luscious honey, fiery hot sauce, mouthwatering pies, luxurious body scrubs, aromatic sprays, and an array of other irresistible delights.
9. Enjoy the Resort's Amenities: Legacy Vacation Resorts Brigantine Beach provides a range of amenities to enhance your stay. Unwind in the indoor all-season pool, challenge friends and family to a game in the game room or catch a bite to eat at the ocean-view Laguna Bar and Grill.
10. Bond with Your Fur-Baby: Legacy Vacation Resorts Brigantine Beach is a dog-friendly resort, so you don't have to leave your four-legged friend behind. Enjoy quality time with your furry companion as you explore the beach and embrace the coastal lifestyle together.
Get ready for the ultimate vacation that's jam-packed with relaxation, adventure, and non-stop fun! At Legacy Vacation Brigantine Beach resort, the excitement never ends. Whether you're craving some peaceful downtime or itching for thrilling beach adventures, Brigantine Beach has got you covered. Don't wait another second – book your stay with Legacy Vacation Resorts and let them sprinkle their magic to transform your dream getaway into an unforgettable reality. Get set for the time of your life!