Your Central Florida Bucket List: 10 Unforgettable Adventures at Legacy Vacation Resorts!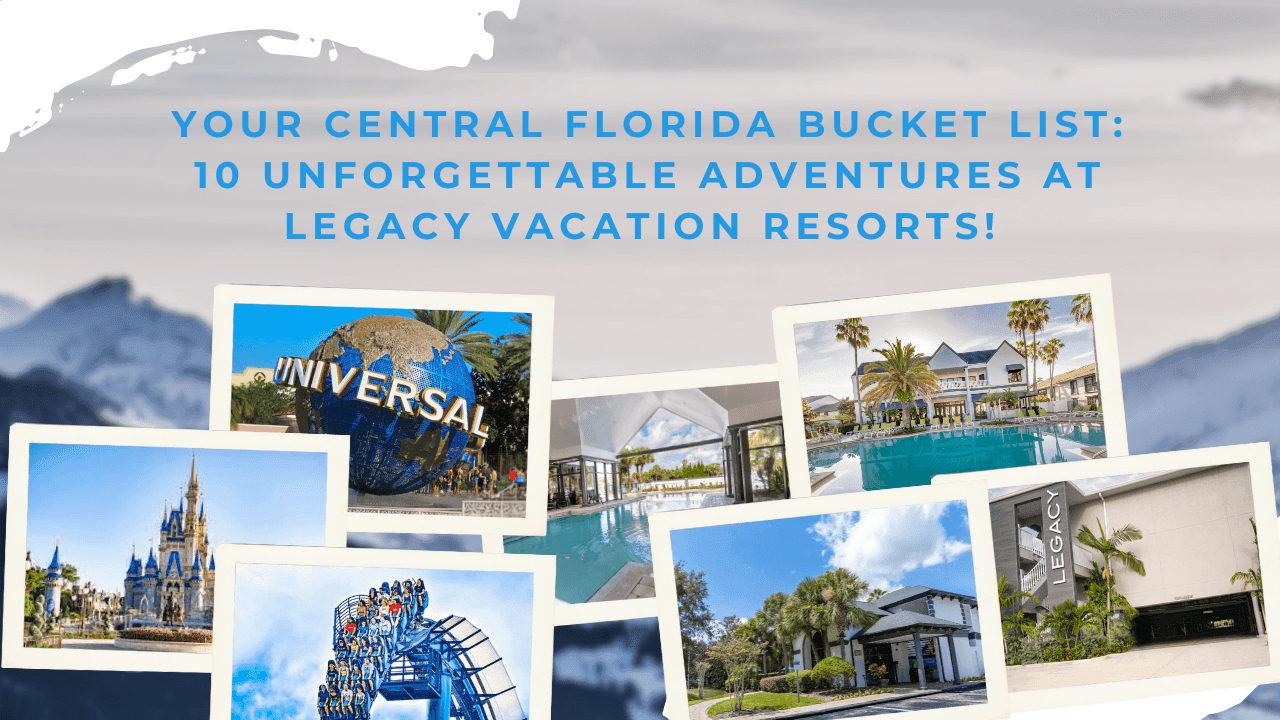 Are you dreaming of a vacation filled with magic, thrills, and unforgettable memories? Look no further than Central Florida, home to some of the world's most iconic theme parks and attractions. And there's no better place to experience the wonders of this region than at Legacy Vacation Resorts in Kissimmee and Lake Buena Vista. Get ready to embark on an incredible journey as we present to you the ultimate Central Florida bucket list for both summer and fall!
1. Walt Disney World: A trip to Central Florida would not be complete without a visit to the enchanting Walt Disney World. Luckily, Legacy Vacation Resorts has you covered with two incredible locations just minutes away! Explore the magic of the Magic Kingdom, the futuristic wonders of Epcot, the wild adventures of Disney's Animal Kingdom, and the Hollywood glamour of Disney's Hollywood Studios. From young kids to the young at heart, Disney has something for everyone.
2. Universal Studios Orlando: Step into the movies and experience the thrills at Universal Studios Orlando. Get your adrenaline pumping with heart-stopping rides and attractions based on your favorite blockbuster films. Don't forget to venture into The Wizarding World of Harry Potter, where you can sip butterbeer, explore Hogwarts, and shop for wands on Diagon Alley.
3. SeaWorld: Dive into an ocean of excitement at SeaWorld Orlando. Witness captivating marine life shows, embark on thrilling rides like Mako and Manta and Pipeline, which is the first-of-its-kind surf coaster, and connect with animals from around the world. SeaWorld also offers a chance to learn about conservation efforts and the importance of protecting our oceans.
4. Disney Springs: Located just two miles from Legacy Vacation Resorts-Lake Buena Vista, Disney Springs is the ultimate entertainment destination. Enjoy live performances, indulge in world-class dining experiences, and shop for unique souvenirs. Don't miss the House of Blues for fantastic live music or Splits Ville Luxury Lanes for some family-friendly bowling fun.
5. Discover Underwater Wonders: Immerse yourself in the enchanting world of marine life at Discovery Cove Orlando. Swim with dolphins, snorkel among vibrant reefs, and create unforgettable memories with your loved ones in this aquatic paradise.
6. Relax by the Pool: After days filled with excitement, unwind by the poolside at Legacy Vacation Resorts. Take a refreshing dip, bask in the warm Florida sun, and indulge in some well-deserved relaxation. The resorts offer excellent amenities, so whether you're in Kissimmee or Lake Buena Vista, you'll find the perfect spot to rejuvenate.
7. Adventure at Gatorland: For a unique and thrilling experience, visit Gatorland® in Kissimmee. This alligator theme park showcases thousands of alligators and crocodiles, as well as exciting shows featuring these incredible creatures. You can even get up close and personal with the animals in the "Gator Gauntlet" zipline attraction!
8. Experience Icon Park: Central Florida's ultimate outdoor haven, offering The Wheel, Madame Tussauds, Sea Life Orlando Aquarium, and more. Explore scenic trails, bike through natural wonders, and enjoy serene boating. Embrace the enchanting fall beauty and immerse yourself in nature's bliss for unforgettable adventures.
9. Dog-Friendly Vacations: Legacy Vacation Resorts in Kissimmee understands that pets are part of the family too! Bring your fur-baby along for an unforgettable dog-friendly vacation. Enjoy the open spaces and create cherished memories with your beloved pet by your side.
10. Family Barbecues: Make the most of your stay with family barbecues at the grilling and picnic areas provided by the resorts. Enjoy quality time together while savoring delicious grilled meals under the Florida sky.
At Legacy Vacation Resorts, not only will you experience the magic of Central Florida, but you'll also be part of a family that cares deeply about creating unforgettable vacations for all guests. With a variety of accommodation options and great amenities, your stay will be nothing short of extraordinary.
So, whether you're looking for a summer filled with theme park adventures, or a fall escape filled with outdoor activities, Legacy Vacation Resorts in Kissimmee and Lake Buena Vista have everything you need to make your Central Florida bucket list dreams come true. Book your vacation today and get ready for the experience of a lifetime!