End Your Summer on a High Note: Unveiling the Ultimate Lake Buena Vista Getaway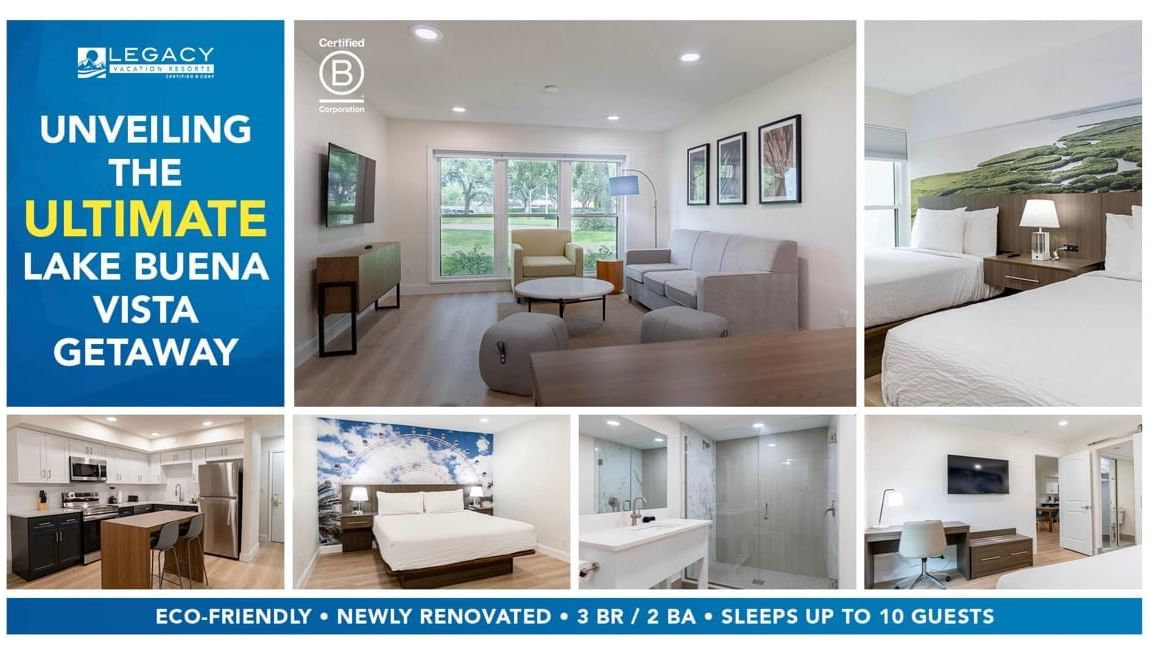 As the summer sun begins to set, there's no better way to bid farewell to the season than with a remarkable vacation. And where better to do that than at Legacy Vacation Resorts' Lake Buena Vista property? Just minutes away from all the theme parks and Disney attractions, our resort has recently undergone a stunning eco-friendly renovation that's raising the bar for sustainable tourism. Get ready to dive into a world of excitement, enhanced experiences, and a regenerative approach to travel that'll leave you amazed.
Legacy Vacation Resorts (LVR), proudly crowned as the highest scoring Certified B Corp hotel company in North America, has brought a whole new level of eco-conscious luxury to its Lake Buena Vista property. This multimillion-dollar renovation transcends the ordinary, weaving together design excellence, elevated guest experiences, and a commitment to sustainability like never before.
Renewable Resplendence
Step onto the property and you'll immediately sense the change in the air – fresher, greener air. Among the exciting highlights of this makeover are the newly installed solar panels. These technological marvels harness the power of the sun to generate clean energy, making a significant dent in the resort's carbon footprint. We're excited to share that Phase 1 is complete, and our Lake Buena Vista property now operates entirely on solar energy. This achievement is a result of both our own solar panels and off-site panels, made possible by our collaboration with Duke Energy's Clean Energy Connection program.
Say Goodbye to Single-Use Plastics
But that's not where eco-innovation stops. Legacy Vacation Resorts is firmly waving goodbye to single-use plastics. The resort has eliminated single-use plastic amenities and adopted eco-friendly building materials that are both innovative and kinder to the environment. Carpet tiles made from recycled fishing nets, low flow plumbing fixtures, and Energy Star rated appliances all contribute to a more sustainable stay that you can feel good about.
Where Luxury Meets Responsibility
The design enhancements brought about by this renovation aren't just sustainable – they're also stylish and incredibly comfortable. The star of the show is the brand new Deluxe 3-Bedroom Suite, a sprawling 1,200 square feet of contemporary elegance. With space for up to 10 guests, it's the ultimate backdrop for family and friends to create lasting memories. The serene color palette, open-concept full kitchen, and eco-friendly finishes all contribute to an ambiance that's both soothing and inviting.
Summer's Last Hurrah in Orlando
As summer draws to a close, Lake Buena Vista emerges as the perfect playground to celebrate the season's end. Even though we're in summer's last hurrah, there's no need to worry about the fun ending – there are plenty of exciting things coming up in the fall too! Surrounded by world-class attractions like Walt Disney World, Universal Studios Orlando, SeaWorld, and Disney Springs, there's no shortage of excitement waiting at your doorstep. Imagine spending your days exploring enchanting parks and your evenings returning to a resort that's as passionate about the planet as it is about hospitality. And with Halloween Horror Nights at Universal Studios, Magical Dining, and Mickey's Not So Scary on the horizon, the adventure continues long after the summer sun sets.
Making a Difference, One Stay at a Time
Legacy Vacation Resorts has taken this renovation as an opportunity to do more than just provide exceptional stays. Our commitment to becoming stewards of the regenerative travel movement shines through in every aspect. From climate action and carbon reduction to stakeholder equity and supporting local economies, their dedication to making a positive impact is evident.
So, are you ready to bid on summer adieu with a bang? Legacy Vacation Resorts' Lake Buena Vista property is waiting to welcome you to a world of eco-conscious luxury, exhilarating adventures, and unforgettable moments. Whether you're lounging by the pool, exploring nearby attractions, or simply savoring the sustainable luxury of your Deluxe Suite, this is a vacation that'll remain etched in your memory forever. Book your stay today and experience the perfect balance of fun, comfort, and responsibility – a high note to end your summer on!