20 Historic Towns in Florida for Your Bucket List!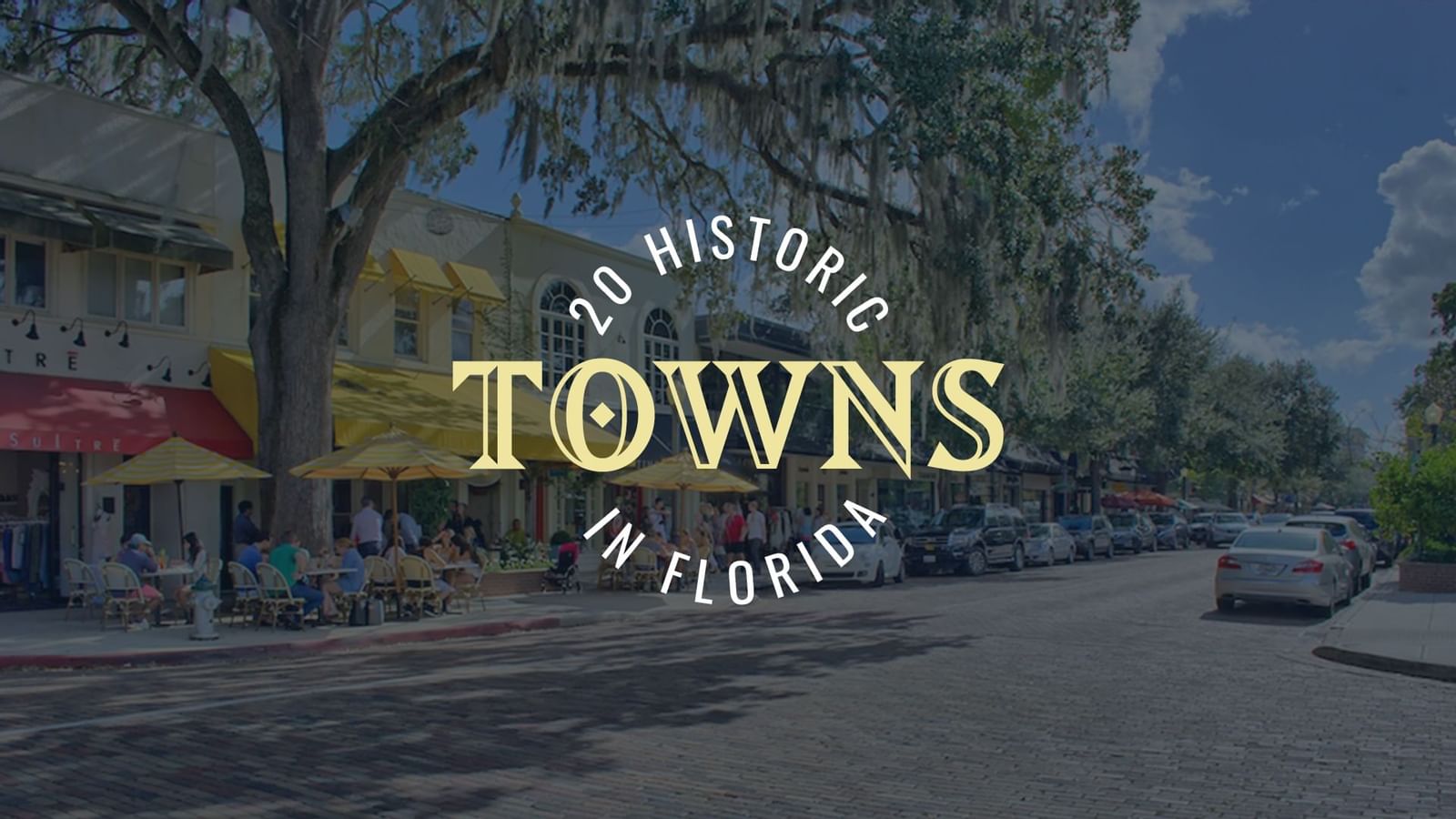 Planning your next trip to Florida? While some vacationers prefer lounging on the coast, or living for the thrills at our world-famous theme parks and attractions, others prefer to soak up the fascinating culture from memorable towns. Whether you're a history buff, or if you're searching for an out-of-the-box adventure, we encourage you to check out some of these 20 Historic Towns in Florida during your next visit.
North Florida
St. Augustine – St. Augustine is Florida's oldest city, founded in the year 1565. The lavish, remarkably preserved Spanish-style architecture can be found alongside significant historical sites throughout the coastal town. Want a fun way to explore the area? Plan a ghost tour, haunted pub crawl, or walking tour and take a stroll throughout this fascinating town.
Tallahassee – Did you know that Tallahassee was the chosen capital long before Florida ever became a state? The city was founded in 1825 and is home to several beautiful historical sites like St. Mark's Lighthouse and the Mission San Luis de Apalachee.
Jacksonville – History lovers will enjoy strolling through the Riverside and Avondale historical district, where charismatic neighborhoods can be found. The area is primarily residential but includes some commercial districts, including Five Points, the King Street District, and the Shoppes of Avondale.
Pensacola – With spectacular sandy beaches, endless opportunities to enjoy water sports, and some of the best food around, there's no wonder why people love this slice of paradise. History buffs will enjoy a unique look into the past by visiting Fort Pickens, which was one of the few forts that remained in Union hand during the Civil War.
Flagler Beach – Nestled between Daytona Beach and St. Augustine sits the Flagler Beach area - just a hop, skip, and a jump away from our Palm Coast resort. Here, you'll find quaint cafes, boutiques, gift shops, and unique antique stores. City Hall and its adjoining side streets take you further down memory lane, where many buildings date to the 1920s.
Micanopy – Rows of historic buildings, antique stores, and local restaurants, ensure that you'll have plenty to do in this charming city. If you're looking for fresh air, however, head out to Paynes Prairie State Park and enjoy hiking trails, alligator sight-seeing, and more!
Fernandina Beach – Known as one of the most aesthetically pleasing historic towns in Florida, Fernandina beach has a complex history worth looking into. The area's story is multifaceted, as it has been under the rule of the French, Spanish, English, Spanish (again), Patriots, Spanish (again), Mexicans, Confederates, and finally, Americans. We find this area worth a trip to the Museum of History to clear any confusion up!
Dunnellon – Dunnellon blends natural wonders with significant sites in their Historic district. Outdoor adventurers can enjoy hiking, swimming, kayaking, or paddle boarding through Rainbow Springs State Park.
Mid-Florida
Winter Garden – If you're looking for a historic town not far from our Central Florida resorts, then Winter Garden is your ideal destination! Saunter down the town and experience the culture through numerous art galleries and theaters. Cyclists can also take a scenic tour through the various biking trails.
Lakeland – Halfway between Orlando and Tampa lies the city of Lakeland. Ranked among the top art museums in the state of Florida and a Smithsonian Affiliate, the Polk Museum of Art is worth the trip for history buffs.
St. Petersburg – If you're staying at our Indian Shores resort, you can take a short trek to St. Petersburg to experience this waterfront town. Wander through the Historic Mirror Lake Neighborhood, or Driftwood Historic District Designation to get a peek at lovely historic homes from the mid-1800s.
Crystal River – Crystal River is the place to be if you're an animal lover. Not only is the area home to an abundance of manatees, but you can also visit the Crystal River National Wildlife Refuge. Visit the springs, stroll along the boardwalk, and enjoy shopping in this historic district.
Mount Dora – Those on the hunt for quaint buildings near Central Florida location will appreciate Mount Dora. This hidden gem is considered one of the most gorgeous old towns in Florida. While the endless antique shops and charming restaurants are the main attraction, we enjoy the annual festivals and local history that make Mount Dora worth a visit
Vero Beach – An elegant city located along Florida's Atlantic Coast, Vero Beach is home to a wide variety of locals, from billionaires to working-class individuals. This area is a haven for golfing, water sports, fishing, and more. Stop by and enjoy rejuvenating beaches, museums, and nature tours around the notable town.
Tarpon Springs – Wealthy Northerners flocked to Tarpon Springs to build ostentatious Victorian mansions and established churches and schools while starting businesses in the late 1800s. The area's architecture can still be appreciated today. Unlike the Spanish influence found throughout Florida, Tarpon Springs stands out as it's known for its Greek heritage.
South Florida
Fort Pierce – Perfectly positioned along Florida's Atlantic Coast, Fort Pierce is often called the Sunshine City. Fort Pierce is one of the oldest communities on Florida's east coast. Art lovers should plan a visit to the Highwayman Legacy Trail, which showcases historical exhibits, art, and first-hand accounts from more than two dozen African American artists who both lived and worked around Fort Pierce
Naples – Naples gained its reputation as a winter resort for the elite in the late 1800s. Today, it is one of the most picturesque cities in the area. Situated in Southwest Florida near the Gulf of Mexico, you can experience perusing through numerous antique stores and art galleries to pass the time.
Key West – Enjoy island time! Key West features opportunities for outdoor activities, boutique shops, amazing fishing, and a walkable downtown district. Celebrate the sunset every night in Mallory Square, check out the Hemingway House, or roam the streets with the local chicken population. Either way, you'll be sure to enjoy this quirky island town.
Sanibel – Beach lovers rejoice! Sanibel is a beautiful historic site that has stunning beaches paired with a relaxing, island vibe. While you won't find any thrilling activities to get your heart racing, you'll get to enjoy a wildlife refuge, an unbeatable boardwalk, stunning beaches, and a plethora of natural beauty spots.
Captiva Island – Are you an outdoor enthusiast? If so, you'll love Captiva Island. Locals and tourists enjoy biking, boating, hiking, and of course lounging on seven miles of white, sandy beaches. After your active day is through, visit the History Gallery curated by the Captiva Island Historical Society for a blast from the past.
Start planning your next adventure with Legacy Vacation Resorts. With 4 destinations across Florida, you'll be sure to create cherished memories with your loved ones.
DISCOVER OUR FL RESORTS