B Corp = Better Business!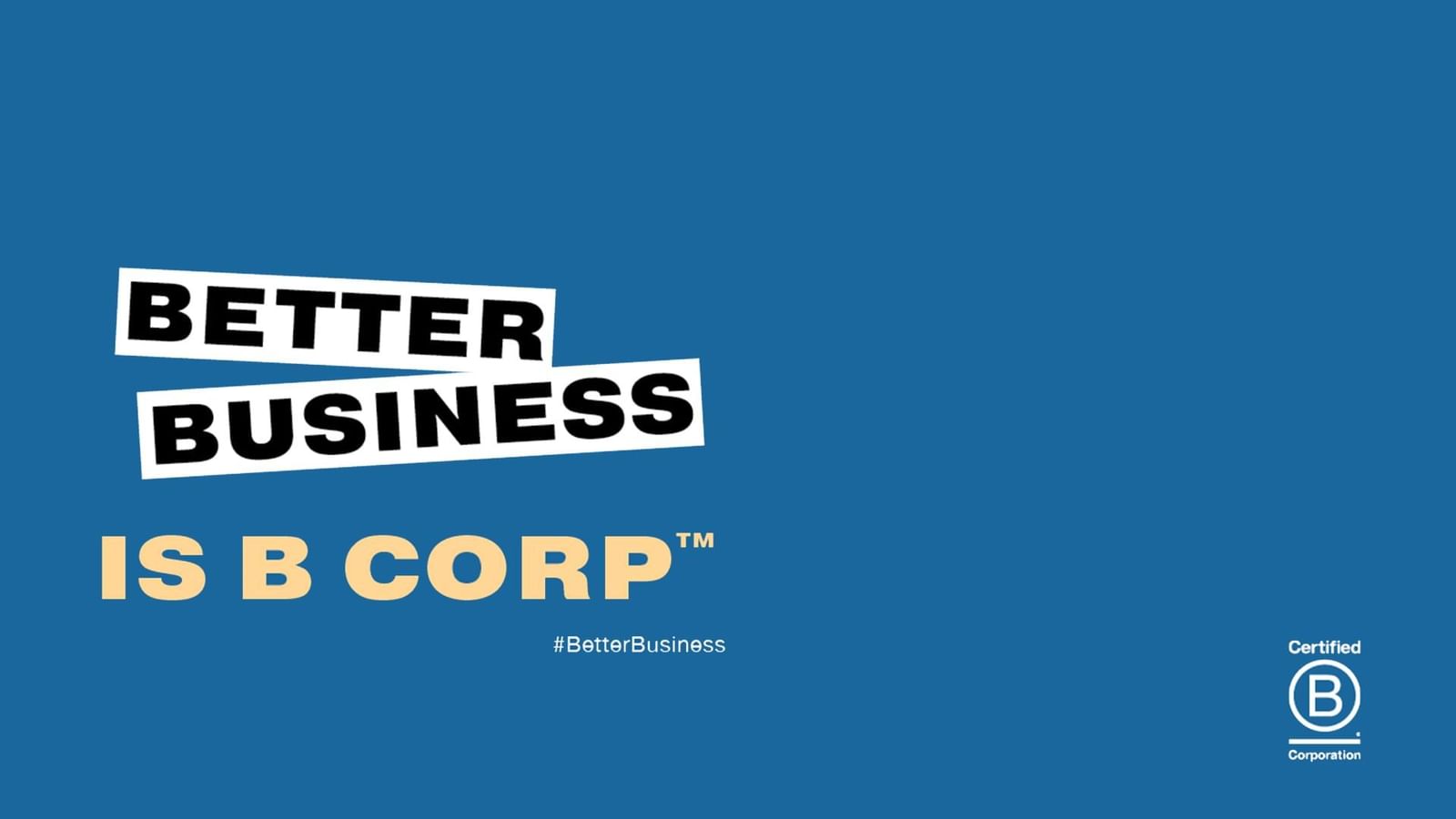 Every year during the month of March, B Corp businesses come together to build awareness and encourage audiences to 'vote every day' by choosing to buy from, work for, and do business with B Corps. It is a time to recognize, celebrate and share the love for companies that take their social and environmental responsibility and impact seriously.
So what is a B Corp? B Corps are businesses that meet comprehensive, rigorous standards of social and environmental performance, accountability, and transparency. Companies must complete the B Impact Assessment (BIA) and score 80 points or higher to become a B Corp certified business. Every three years, B Corps go through re-certification and must complete the BIA again to ensure the standards are met.

Currently, there are 3,821 companies in the "B-Hive" community, spanning 74 different countries. These companies work in 150 different industries ranging from hospitality to healthcare providers, sports equipment, pet products, and everything in between! Companies that you may know include, Athleta, Patagonia, Ben & Jerrys, Seventh Generation, AllBirds, and Legacy Vacation Resorts!
This year's B Corp Month theme was "Better Business." As a company, we celebrated what it means to be a Better Business by incorporating engaging and appealing experiences for our guests and team members alike. Check out some of our initiatives below:
Legacy Vacation Resorts kicked off B-Corp month by asking our employees what a B Corp means to them. Click here to view our "What B-Corp Means to You" video.
International Women's Day soon followed, and we honored our Ladies in Leadership on social media. We strive to keep our teams diverse and work towards having an even playing field for all genders, races, and ethnicities. Did you know that over 55% of our workforce identifies as female and nearly 74% of our team members are minorities?
Indian Shores hosted their second "Adopt-A-Coast Clean-Up" in partnership with Keep Pinellas Beautiful. We have collected over 100lbs of trash and debris from our coastline between the two cleanups. Our team is recognized as the first KPB Hospitality Eco-Partner in the area!
This month our Kissimmee-Orlando property installed a small solar panel kit on top of Tony's poolside bar. We have been successful in utilizing the power generated to run small appliances. This is a small step in the right direction to becoming a fully renewable LVR.
Saturday, March 27th marked the second year since becoming an official B Corp certified business in March 2019. LVR first certified in 2019 with a score of 88.6. We are up for re-certification next year and look forward to an exciting year of progress ahead!
Also on Saturday, March 27th we participated in this year's Earth Hour. Earth Hour is one of the world's largest grassroots movements for the environment. Held every year on the last Saturday of March, Earth Hour engages millions of people in more than 180 countries, by switching off their lights to show support for our planet. We celebrated Earth Hour by turning off all non-essential lobby lights at each of our resort locations.
Finally, we wanted to highlight our continuous commitment to eliminating all single-use plastics from our resorts.

Our reusable water bottle initiative has well-exceeded our initial goals. Our program has given out over 10,000 bottles in 2020 and we are excited to see this initiative take flight again in 2021.
This past year we removed all single-use shampoo/soap bottles from our guest rooms, replacing them with refillable dispensers.
We continue to move forward with transitioning all resort key cards to non-plastic alternatives. We have switched over two of our resorts thus far to either renewable sourced wood or paper options.
This month has been an exciting time for our company and the B Corp community. Are you wondering how can you engage more with B Corps? Simple ways to get started are to support B Corps that make the products that you use every day. From dish soap and toothpaste to baby food and t-shirts, you can find most of what you need and so much more. Look for the B Corp certified logo when you shop, or search for brands here. You can also sign up for the weekly B the Change newsletter to read stories and gain insight into why these ambitions are important. Additionally, make sure that you are following Legacy Vacation Resorts on Facebook and Instagram to stay in the know for our upcoming projects!