Dog-Friendly Beaches in Florida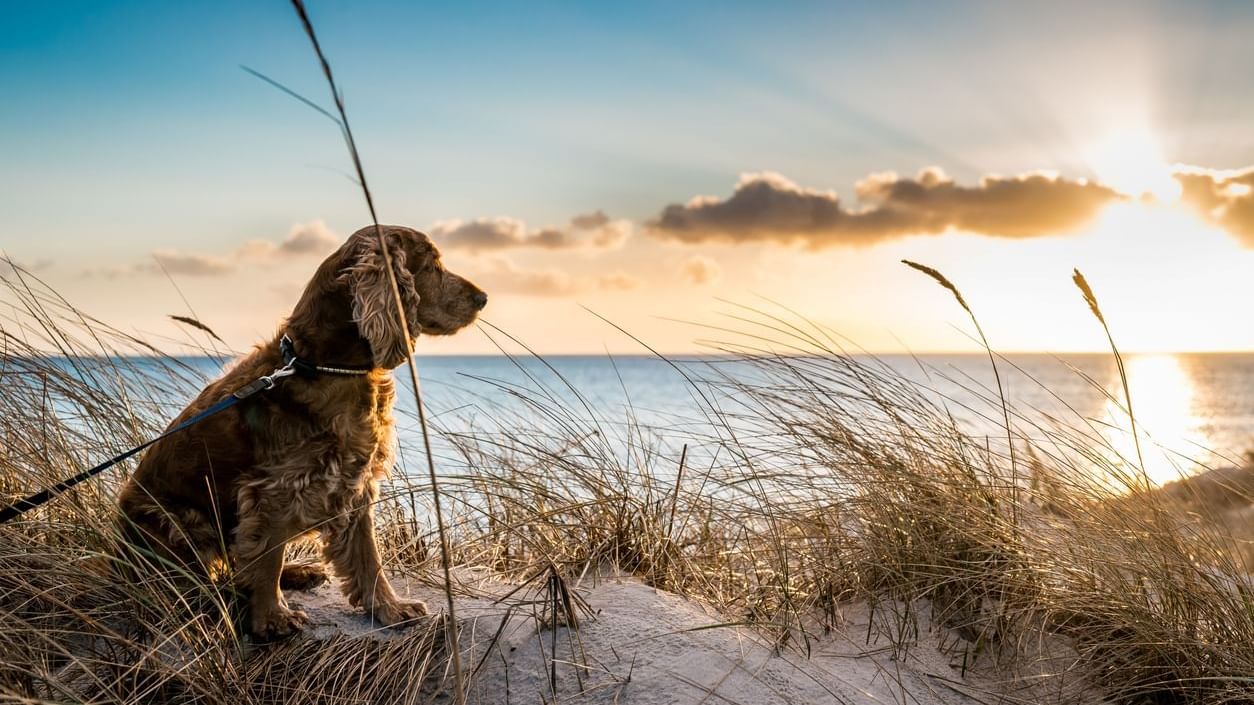 Soak up the sun and enjoy the ocean breeze on your next vacation. With 1,350 miles of shoreline, there's no wonder why millions of families flock to Florida for their summer vacation. There's a beach for everyone to enjoy — including your four-legged furry family members! We've done some digging and fetched the best dog-friendly beaches located near our Florida resorts. Check them out below:
Fort De Soto Park/Beach, St. Petersburg – Enjoy trails suitable for people and pups of any skill level. The dog park allows access to the beach in a designated area, and there are two separate fenced areas near the coast for pups of all sizes. The fenced park sections include water stations.
Palm Coast and the Flagler Beaches – Flagler welcomes leashed dogs on the shore located North of N 10th Street and South of S 10th Street only. Parking is available off of A1A on any side street. Leashes should be 8 feet long or shorter. Bring your waste bags and water.
Davis Islands Beach, Tampa – Pooches are allowed to play off-leash in designated areas of the park.
Honeymoon Beach, Dunedin – Leashed dogs are welcome to play and hike on a nature trail, in addition to having their beach on the southern tip of the island.
Matanzas Inlet Bridge, St. Augustine – Leashed dogs are welcome and can even get across to a nice sandbar for some off-leash fun. Gain access from sunrise to sunset.
Vilano Beach, St. Augustine – Man's best friend is welcome northeast of St. Augustine, FL on the A1A Scenic and historical byway. Bring your waste bags and water.
Cocoa Beach, Cocoa Beach – Dogs must be on a leash under six feet for the duration of their visit, the dog park at Lori Wilson Park is a leash-free area. Pets are welcome on Cocoa Beach between 4th Street South and the north side of Murkshe Park. Waste disposal points are available at the pet-friendly entrance.
Canova Beach Park, Indialantic – This 9.1-acre community park includes a small pavilion, grill, picnic shelter, benches along crossover, restrooms, drinking fountain, and outside showers. . Your pet must be on a leash and must wear tags showing their current license and vaccinations. Waste bags and proper receptacles are available.
While visiting these beaches with your fur baby, always remember to practice good pet etiquette, and follow any local guidelines and signage as it pertains to your fur-baby. We hope you "ruff" your time in Florida!
Want to check out our dog-friendly resorts? Don't forget you can vacation with your fur-baby with our dog-friendly suites. Click below to start booking your furr-tastic family vacation.