Fun in the Sun: 12 Best Things To Do in Palm Coast, Florida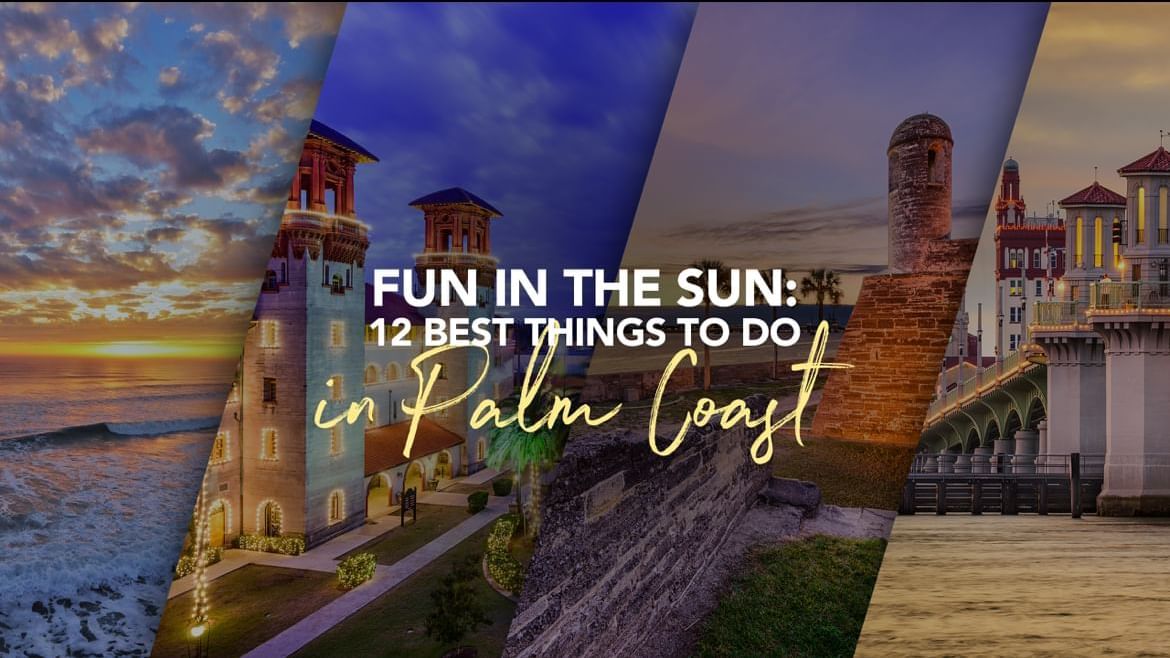 Welcome to the Sunshine State, where the beaches are pristine, the weather is fantastic, and the opportunities for fun are endless! Palm Coast, Florida, is a hidden gem waiting to be explored. Whether you're traveling solo, with your family, as a couple, or with friends, this coastal paradise has something for everyone. Get ready to make the most of your trip with this guide to the 12 best things to do in Palm Coast.
Soak Up the Sun on Flagler Beach
Palm Coast is known for its beautiful beaches, and Flagler Beach is a local favorite. Enjoy sunbathing, swimming, beachcombing, and watching breathtaking sunrises and sunsets. It's the perfect spot for relaxation and seaside adventures.
Discover the Beauty of Washington Oaks Gardens State Park
Explore the lush gardens and scenic trails of Washington Oaks Gardens State Park. Marvel at the unique coquina rock formations and take a leisurely stroll through the formal gardens. This park offers an idyllic setting for picnics and photography.
Go Kayaking in the Intracoastal Waterway
Rent a kayak and paddle your way through the serene Intracoastal Waterway. Keep an eye out for manatees, dolphins, and a variety of bird species. It's a fantastic way to connect with nature while enjoying a peaceful water adventure.
Tee Off at World-Class Golf Courses
Palm Coast is a golfer's paradise with several world-class golf courses. Whether you're a pro or a beginner, you can enjoy a round of golf amidst stunning natural landscapes. Don't forget to check out our article on golfing in Palm Coast.
Explore Gamble Rogers Memorial State Recreation Area
For those who love the outdoors, Gamble Rogers Memorial State Recreation Area offers camping, hiking, and fishing opportunities. It's a great place to immerse yourself in the beauty of Florida's coastal ecosystems.
Take a Scenic Drive on the A1A Coastal Byway
Embark on a scenic drive along the A1A Coastal Byway, where you'll be treated to breathtaking views of the Atlantic Ocean and Intracoastal Waterway. Don't forget your camera!
Savor Fresh Seafood at Local Restaurants
Palm Coast boasts a vibrant dining scene, especially when it comes to fresh seafood. Visit local restaurants to enjoy delicious catches of the day and soak in the coastal ambiance.
Discover Marineland Dolphin Adventure
A visit to Marineland Dolphin Adventure is a must for families and animal lovers. Interact with dolphins, learn about marine life conservation, and create unforgettable memories.
Experience Water Sports Galore
From jet skiing and paddleboarding to parasailing and boating, Palm Coast offers a plethora of water sports activities to choose from. Dive into the crystal-clear waters for an adrenaline rush.
Visit Bing's Landing
Bing's Landing is a historic park with hiking trails, a fishing pier, and a picnic area. It's an excellent spot for a family outing or a peaceful day in nature.
Engage with the Local Community
Check out local events, markets, and art galleries to immerse yourself in Palm Coast's vibrant community and culture. It's a great way to connect with the heartbeat of the city.
Stay at Legacy Vacation Resorts Palm Coast
Choosing the right accommodation is crucial for a memorable trip. Legacy Vacation Resorts Palm Coast offers spacious condo-style accommodations with full kitchens, ensuring you have all the comforts of home. Plus, our commitment to sustainability and cultural heritage aligns perfectly with responsible travel values.
By staying at Legacy Vacation Resorts Palm Coast, you'll have access to prime amenities, making your vacation even more enjoyable. It's the ideal base for exploring all that Palm Coast has to offer.