10 Things to Do in Steamboat Springs With The Whole Family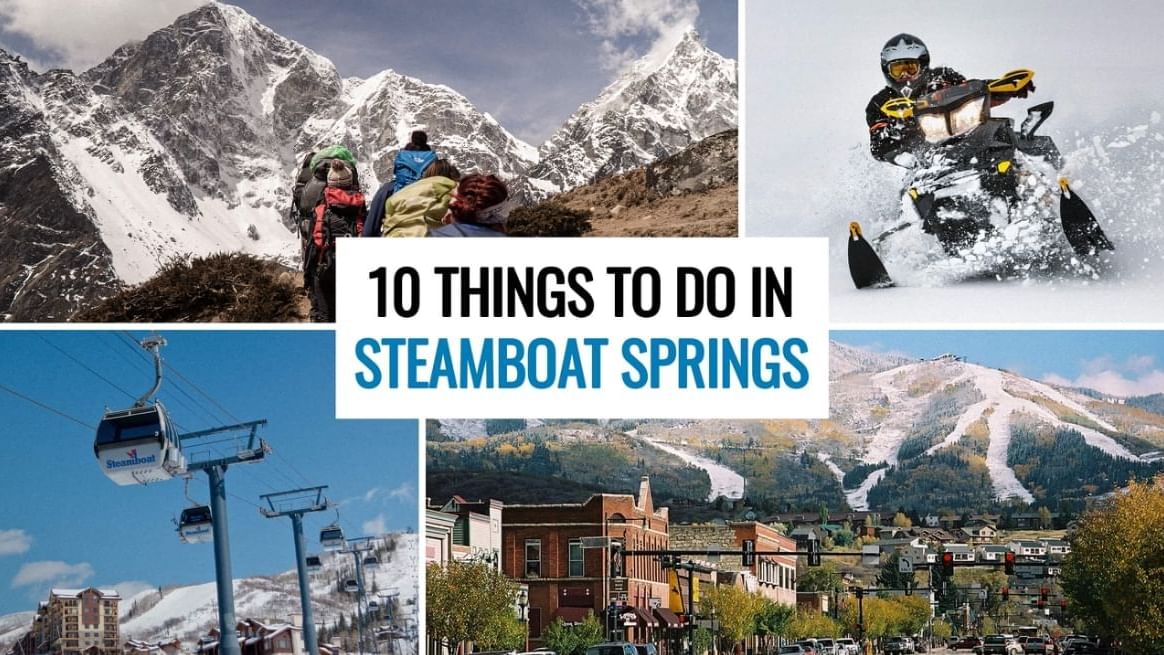 Are you planning a family vacation to Steamboat Springs, Colorado, with the ski season fast approaching? Look no further for the ultimate guide to creating cherished memories with your loved ones. Steamboat Springs is renowned for its natural beauty, outdoor adventures, and family-friendly atmosphere. With Legacy Vacation Resorts as your accommodation choice, you'll have access to prime amenities and a cozy home away from home.
So, let's dive into the top 10 things to do with the whole family in this picturesque destination:
| | |
| --- | --- |
| Hit the Slopes in Winter | If you're visiting during the winter months, Steamboat Springs is a paradise for skiing and snowboarding enthusiasts. Steamboat Ski Resort offers family-friendly slopes, lessons for all skill levels, and plenty of winter fun. |
Experience the Magic of Hot Springs
Steamboat Springs is famous for its natural hot springs, and a visit to these geothermal wonders is a must. Families can unwind in the soothing, mineral-rich waters of Strawberry Park Hot Springs or Old Town Hot Springs. It's a relaxing way to kick off your vacation.

Explore the Yampa River Botanic Park
Discover the beauty of nature at the Yampa River Botanic Park. With its lush gardens, serene ponds, and walking paths, it's a perfect spot for a family picnic or a leisurely stroll. The park hosts various events and workshops throughout the year, making it an educational experience for kids too.
Visit the Steamboat Art Museum
Cultivate your family's appreciation for art by visiting the Steamboat Art Museum. Featuring rotating exhibitions of contemporary and historical artwork, this museum offers an enriching cultural experience for visitors of all ages.
| | |
| --- | --- |
| Take a Scenic Gondola Ride | Enjoy a Day of Tubing |
| | |
| For breathtaking views of Steamboat Springs and the surrounding mountains, hop on a scenic gondola ride at Steamboat Ski Resort. This is an excellent activity for families year-round, as the landscape transforms with each season. | In the summer, the Yampa River becomes a hub for tubing adventures. Rent tubes and float gently down the river, taking in the serene beauty of Steamboat Springs. It's a relaxing and enjoyable experience for all. |
Horseback Riding in the Rockies
Saddle up and explore the scenic beauty of the Rocky Mountains on horseback. Steamboat Stables offers guided horseback rides suitable for riders of all levels, including children.

Go for a Family Bike Ride
Steamboat Springs offers an extensive network of bike trails suitable for riders of all ages and skill levels. Rent bicycles and explore the picturesque landscape together as a family.

Sample Local Cuisine
Steamboat Springs boasts a diverse culinary scene, catering to various tastes and dietary needs. From local farm-to-table restaurants to cozy diners, you'll find something to satisfy everyone's palate.
Choosing the right accommodation is key to a successful family vacation, and Legacy Vacation Resorts in Steamboat Springs has you covered. We have two magical properties to enjoy: Steamboat Springs Suites and Steamboat Springs Hilltop, positioned near the Routt National Forest and featuring stunning views of Mt. Werner. Our spacious condo-style accommodations are equipped with full kitchens and living spaces, ensuring that your family has all the comforts of home. Plus, our commitment to sustainability and respect for cultural heritage aligns perfectly with the values of responsible travelers.

By staying at Legacy Vacation Resorts Steamboat Springs, you'll have access to prime amenities, including pools, hot tubs, and more, making your family vacation even more enjoyable. Plus, the resort's central location means you're close to all the attractions mentioned in this guide.

Steamboat Springs is a fantastic family vacation spot with something for everyone. Whether you're seeking outdoor adventures, cultural experiences, or simply a relaxing getaway, this Colorado gem has it all. Book your stay at Legacy Vacation Resorts Steamboat Springs and make your family's vacation unforgettable.

And don't forget to take advantage of the Steamboat Ski and Resort Co together with Legacy Vacation Resorts's lodging partner's discount lift ticket portal. Book early and save more, as prices go up on 11/10/23. Secure your winter adventures now!