Top 10 Things to Do in Reno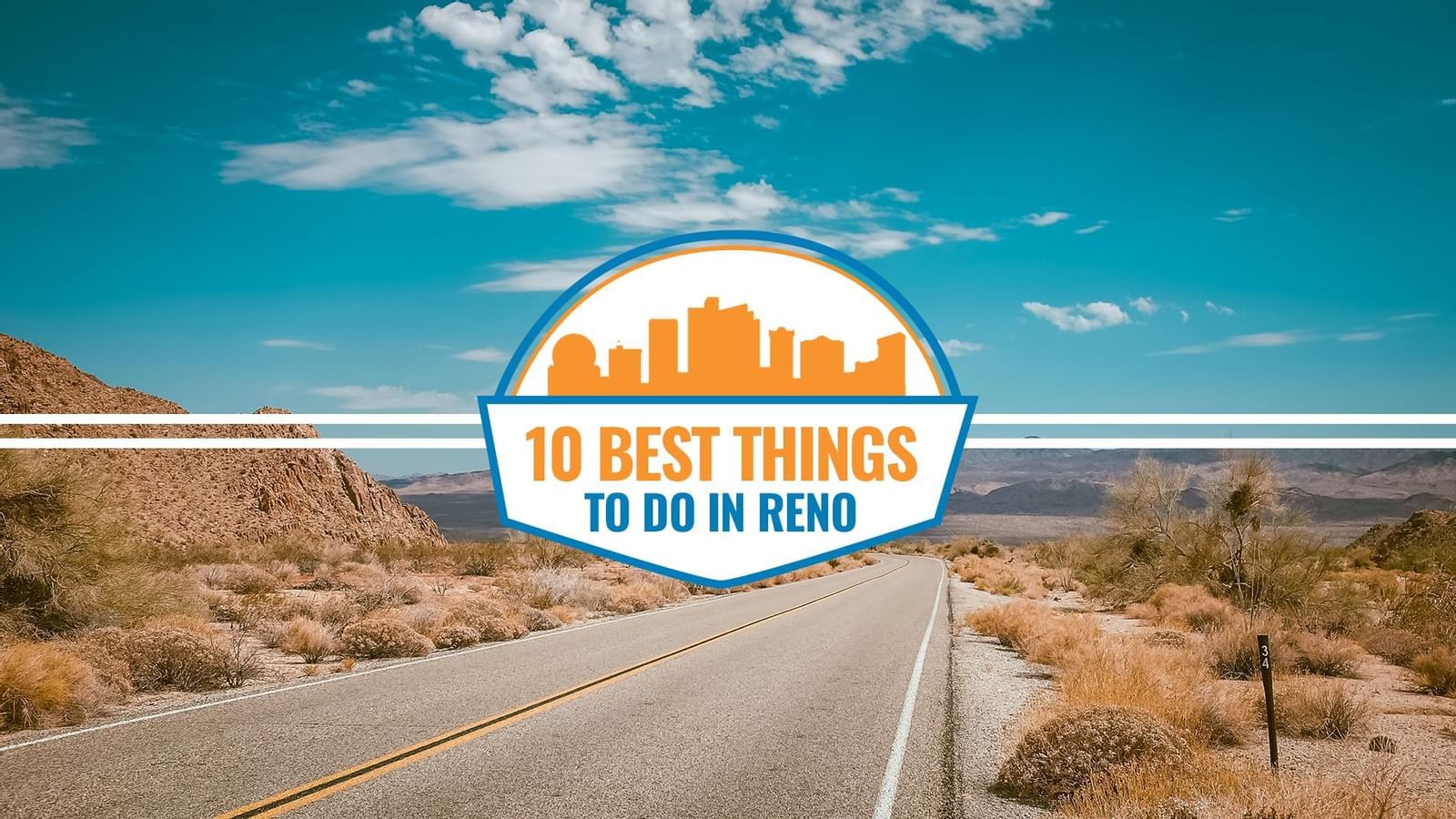 There is no shortage of entertainment and fun attractions to see, experience, and enjoy in Reno, Nevada. Between the impressive amount of art lining the streets and a vibrant restaurant scene, Reno is the perfect getaway for anyone looking to explore a little more. If you're looking for inspiration on your next Reno Vacation, we've got you covered. Check out our Top 10 Things to do in Reno, in no particular order.
Get Inspired at the Nevada Museum of Art – Delight in over 1,500 paintings, photographs, sculptures, drawings, and prints across three floors - with five focus areas centered around land and environment that deconstruct and reimagine the boundary between the arts and environment.
Discover Animal Ark – Since its conception, Animal Ark has been dedicated to being an education center as well as a safe, caring home for wild animals who cannot be released or rehabilitated. Animal Ark makes a great effort to build every animal enclosure with native trees, boulders, and vegetation to simulate the animals' natural habitat. Additionally, Animal Ark is committed to using environmentally friendly energy policies wherever possible. The majority of Animal Ark's energy needs are met by using passive solar panels and wind generation.
Take Yourself on a Brewery Tour – Explore the city and discover Reno's thriving craft beer scene, featuring some of the most unique, original, and top artisanal beers in the Country! With over 10 breweries in the Downtown area, you will be sure to find a brew that you'll like.
Stroll Down The Riverwalk – If you're looking for an inexpensive way to explore the city, look no further than the Reno Riverwalk, located steps away from our Reno resort. There's always some form of an exciting event occurring, like concerts on the street, Dine the District tours, wine walks, face painting competitions, and more.
Go Paddling On Lake Tahoe – Nothing comes close to the crystal clear and vibrant turquoise waters of Lake Tahoe. Rent a canoe, kayak, or stand-up paddleboard and enjoy the serenity of a day on the water.
Raft the Truckee River In Reno – Did you know that you could go white water rafting right in Downtown Reno? The river itself is mild and easy to navigate but includes a few surprise rapids for an invigorating end to your rafting voyage.
Take an Instaworthy Pic – Everybody loves a good Instagram photo, and this vibrant city serves as the ideal backdrop for that perfect selfie. Reno has a number of famous art sculptures and murals lining the city, which gives you ample opportunity to snap *the* pic. Grab your friends, your cutest outfit, and your iPhone, and get ready to go on a selfie adventure.
Visit Pyramid Lake – Deemed one of the most beautiful places to visit in the US, this picturesque lake earned its name from the pyramid-like formations of rock that poke through the water. Situated just under 45 minutes northwest of Reno, the lake offers plenty to do for any level of explorer.
Catch a Ball Game at Greater Nevada Field – Home to the Triple-A Reno Aces, this gorgeous stadium features mountain views along its back and a natural grass surface.
Hike and Bike Through the Tahoe-Pyramid Trail – If you're looking for a challenging outdoor adventure, look no further than this expansive trail that runs from Lake Tahoe, through the Truckee River, to the downtown area, through Sparks, and finally ending at Nevada's Pyramid Lake.
Get started on your Reno adventure today. Enjoy spacious studios and one-bedroom accommodations featuring kitchenettes or full kitchens. Click here to start planning your Reno getaway, or call our dedicated team members at 1-866-507-1429 to book your next vacation.